Regular price
$1,199.00
Sale price
$1,199.00
Unit price
per
The Segway Ninebot F40 electric scooter stands out in the e-scooter market by offering a high-quality option for entry-level riders. While most entry-level e-scooters tend to skimp on features like disc brakes, app integration, water resistance, and ride comfort to keep the price low, the F40 delivers reliable performance without sacrificing these important features. As a result, the F40 is an excellent choice for riders who are new to the world of e-scooters and looking for a reasonably priced, dependable option that will meet their needs.
View full details

10 inch Pneumatic Tire
Electronic Brake & Disc Brake

F40: 30 km/h Top Speed*

F40: 40 km Top Range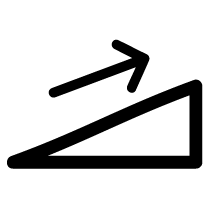 F40: 20% Max Slope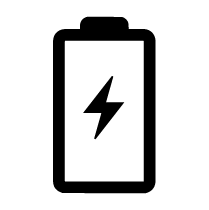 F40: Approx. 6.5H Charging Time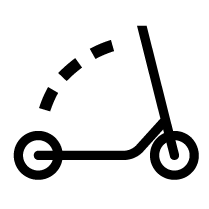 Quick Folding System

3 Riding Modes
*Limited to 25 km/h due to government regulations
KickScooter F40 Features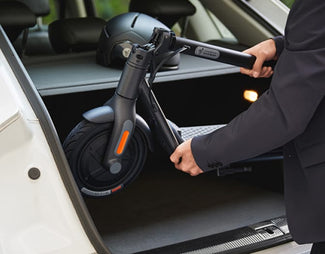 Bring Your Scooter Anywhere with One-Step Folding
The F-Series can be folded in a single second, so you can bring it with you no matter where you're headed. Your Segway Ninebot F-Series fits easily on public transportation, can be stored neatly in your car, and is ready to tag along wherever your next adventure may take you.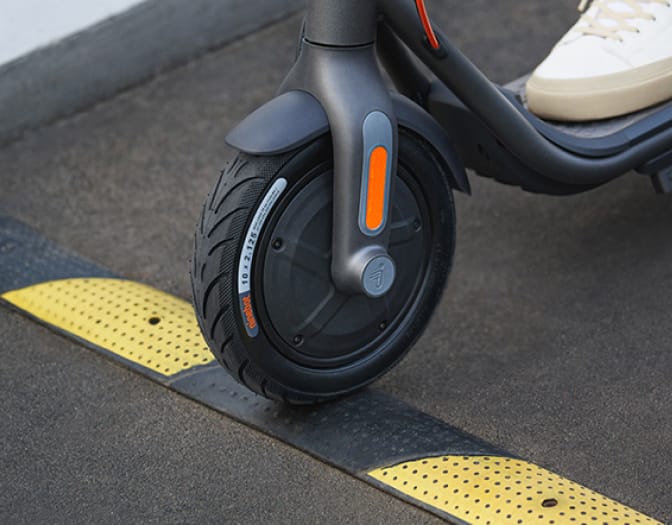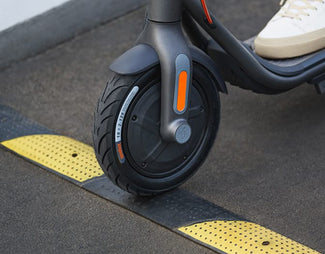 Enjoy a Smooth Ride With Anti-Skid Tires
With superior shock absorption, the 10 inch pneumatic tires make your ride smoother and more stable, even on bumpy terrain or rough surfaces. ​​Polymer-lined tires with wear-resistant tread offer you an elevated riding experience that combines of comfort and endurance.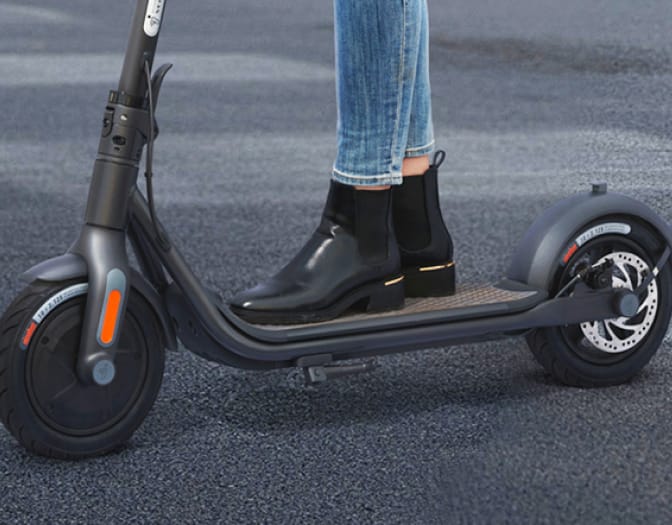 Experience Ultimate Safety
The F-Series features a high-tenacity steel frame, comprehensively protecting the body of your electric scooter and giving it the ability to handle payloads up to 100kgs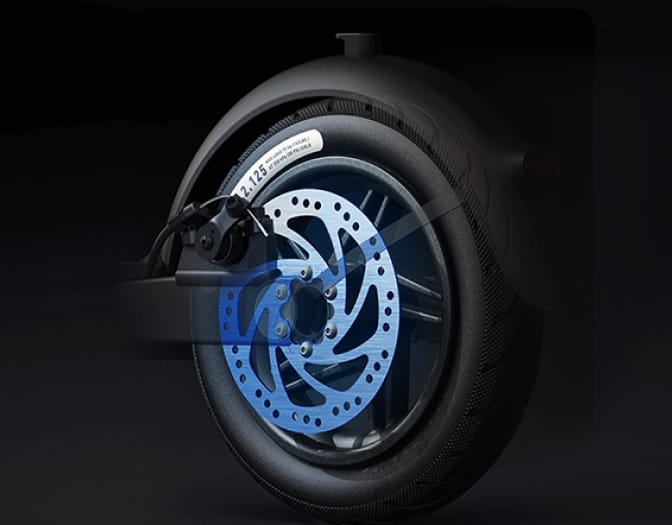 Dual Braking for Precision Control
With its front-wheel regenerative electric brake and back-wheel disc brake, the F-Series' Dual Brake System provides high levels of stability and steerability for an incredibly safe ride. 140mm disc brakes increase reaction time by up to 27%, responding in 0.1 second.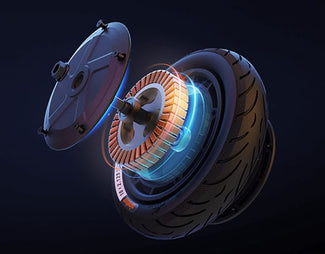 High Durability Motor for Long-Lasting Power
With a brushless, direct current motor, the Ninebot KickScooter F-Series delivers a fast and sturdy riding experience. High-powered heat dissipation increasess your motor's lifespan, preventing burnout and keeping you in motion.
Fully-enclosed Footboard for Comfort
The F-Series' sturdy and fully enclosed footboard reduces vibration and provides additional padding, ensuring a smooth and comfortable ride.
Battery Management System
Designed to keep you safe, the BMS monitors the working status of your KickScooter's battery at all times, providing protection from overcharge, discharge, and short circuiting, along with temperature control.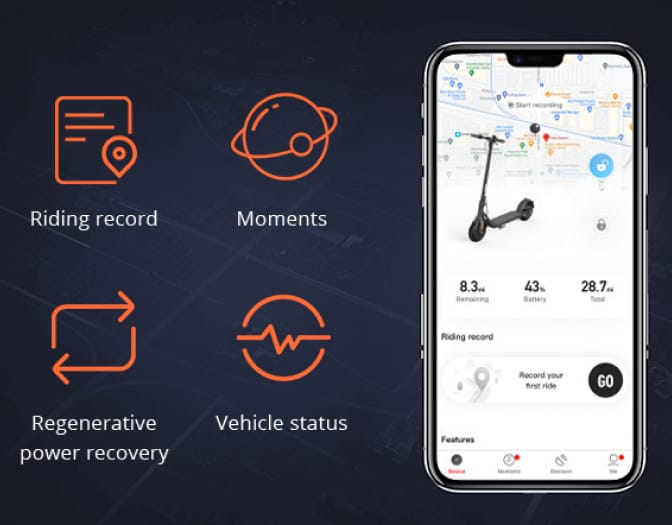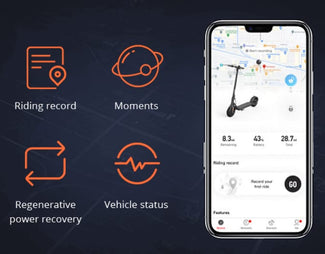 Riding Data at Your Fingertips
Connect the Ninebot KickScooter F-Series with the Segway-Ninebot App via Bluetooth to keep an eye on your riding speed, energy usage, and battery levels, or turn on Cruise Control once you hit 5 MPH for an easy ride.
Light Your Way
The Ninebot KickScooter F40 was designed with a 2.5w, high-brightness, front-facing LED display to illuminate the path ahead of you and increase your visibility and safety. *Disclaimer: for your safety, we recommend you do not ride at night.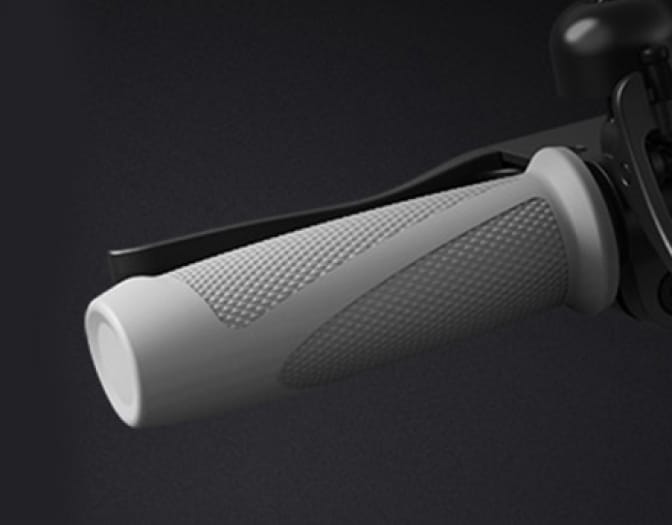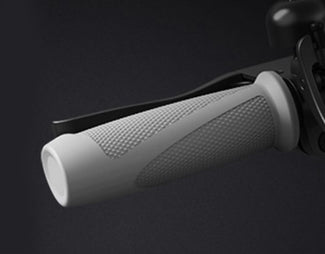 Sleek and Functional Design
A sleek metal design gives the F-Series a modern look, with a ergonomic grip design that keeps you comfortable while helping your hands stay dry, for ultimate security.
Specifications, details, and more helpful information to keep you moving
Things to know before you ride
It is essential to exercise caution while riding and to wear protective gear, including a helmet. It's worth noting that each state and territory in Australia has varying rules and regulations regarding the use of such products. This includes where they can legally be used and whether registration with the state's road traffic authority is required. Please keep in mind that any information provided by Segway Ninebot Australia is general in nature and may not take into account your specific circumstances. It is the responsibility of each rider to verify their local laws before riding.
Free Shipping & Returns
Free Shipping for orders over $99.
Download
Product Handbook Title
13 external hexagonal wrench CA.00.0030.73

Regular price

Sale price

$1.91

Unit price

per

Discover More

3mm T-type socket head wrench, 3mm T-type socket head wrench D18U/D28U/D38E/F40/F2/F2 Plus/F2 Pro/P65A/P100SE AB.50.0010.92

Regular price

Sale price

$3.58

Unit price

per

Discover More

Aus regulation AC line Accessory Package-F65, G30, G30M, MAX G2, P65A, G65, P100SE 3 PIN 14.02.0322.00

Regular price

Sale price

$24.87

Unit price

per

Discover More