Regular price
$3,499.00
Sale price
$2,999.00
Unit price
per
Premium E-mobility Reinvented
The Segway KickScooter P-Series is designed for the ultimate riding experience. Premium battery power, widened footboards, ergonomic grips, auto-grade all-season tires, and a comprehensive lighting system make daily cruising a breeze.
View full details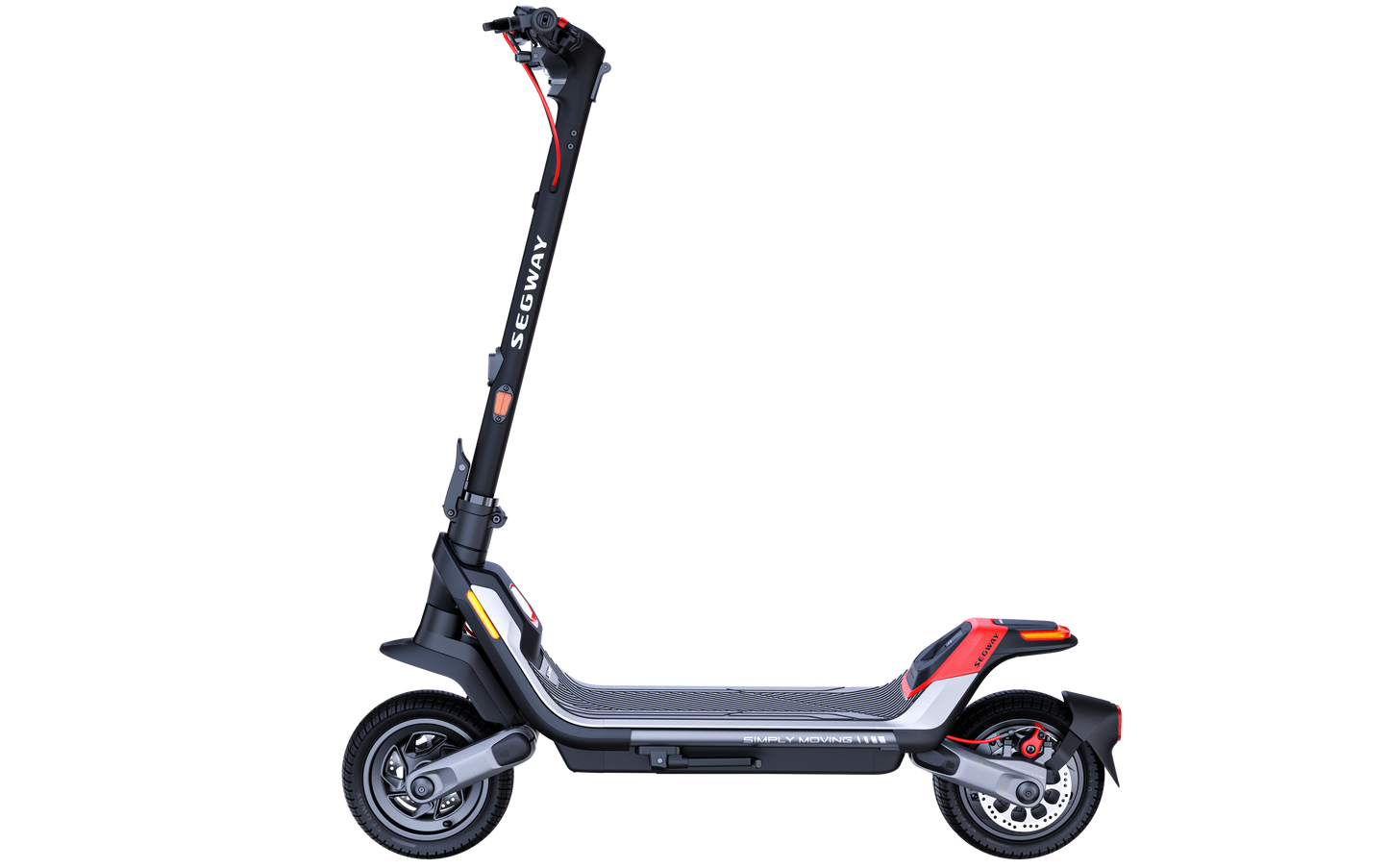 Max speed: 25 km/h*

Typical range: 100 kms

10.5-inch Self-sealing Tubeless Tires
Approx. 23% Max Slope
Comprehensive lighting system
Front and Rear Ventilation Discs Brake and Rear Electronic Brake
Easy Charging Up to 7 hours
120 Kgs Max Payload
*Limited to 25 km/h due to government regulations
P100S Features
Suspension Made For Exploration
P100S electric scooter with double wish-bone torsion suspension, get ready to enjoy fun rides with excellent stability on the roughest of roads.
Pro-Grip Tires For Confident Cruising
The auto-grade tires on the P-Series offer better traction on slippery roads and self-sealing technology for worry-free riding.Traction on Snow 47%↑,Wet Surface 9.8%↑,Prevents Slipping 17.6%↑
Puddles Will Not Get In Your Way
The Segway KickScooter P-Series comes equipped with splash defend fenders plus a waterproof body and battery housing.
Braking Without Compromise
P100S with the braking system features front and rear 5.5-inch (140mm) ventilated discs and rear electric regeneration.
Built-in Lighting For Ultimate Safety
The comprehensive lights of the Segway KickScooter P- Series are designed to light up your ride, night or day. The 10W LED front light, daytime running light, front and rear signal lights, and brake light are built to ensure on-road riding safety.
The Distinguished Atmospheric Lights on P100S sets the mood for any commute.
The 10W anti-glare LED front light, daytime running light, front and rear turning signal lights, and brake light are built to enhance on-road riding safety. Also, the distinguished atmosphere lights on P100S let the rider commute in style.
Unlock The Possibilities
Say goodbye to your keys and unlock the P series with 3 user-friendly unlocking methods: NFC card, Bluetooth and Password.You can connect the KickScooter P series via the Segway App as well to unlock it and perform other settings.
Specifications, details, and more helpful information to keep you moving
Things to know before you ride
It is essential to exercise caution while riding and to wear protective gear, including a helmet. It's worth noting that each state and territory in Australia has varying rules and regulations regarding the use of such products. This includes where they can legally be used and whether registration with the state's road traffic authority is required. Please keep in mind that any information provided by Segway Ninebot Australia is general in nature and may not take into account your specific circumstances. It is the responsibility of each rider to verify their local laws before riding.
Free Shipping & Returns
Free Shipping for orders over $99.
Close