Regular price
$1,699.00
Sale price
$1,399.00
Unit price
per
The Segway Ninebot P65A Electric Kickscooter sets the new standard for city commuting, cruising, and fun! Segway has elegantly built this electric scooter with an industry-leading eye for quality and style, after years of research and development. It is perfect for both first-time riders and those looking for a serious upgrade from their current device. Segway, famously known for its build quality, has taken cues from its flagship models, the GT Series, to create a scooter that will turn heads and last for years. The scooter features a 500W rear motor, enabling riders to cruise up to 25 km/h*, much faster than your average commuter scooter. It has a range of up to 65km, riding at 16km/h on flat terrain in warm weather, reducing charging time. The scooter comes with integrated turn signals and customizable LED accent lighting for safety.
*Limited to 25 km/h due to government regulations
Buy Now
View full details

Max speed: 25 km/h*

Typical range: 65 kms*

10.5 inch Self-sealing Tubeless Tire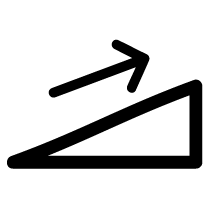 Approx. 22% Max Slope
Comprehensive lighting system
Front wheel dual piston disc brake and rear wheel electronic brake
Easy Charging Up to 4 hours
120 kgs Max Payload
*Limited to 25 km/h due to government regulations
p65 Features
Protect Your Travel Safety
Double breaking protection and power CrossSeason Tires provide extra grip, stability and tracking, and can withstand multiple punctures without tire deflation, while the intelligent alarm system keeps you safe at all times.
Multifunctional Atmosphere Light
The P65 light includes an alarm system, RGB colors and simultaneous flash with turn signals.
Comprehensive Lighting System
The front LED Light, front and rear turn signal, daytime running light, brake tail light give you 360-degrees of protection.
High-Powered Functionality
The 5V2A output is protected from the rain, allowing it to safely meet the charging demand of digital products during travel.
One-step Folding Mechanism
The P65 is designed to be easily folded and compact enough to carry in seconds.
Specifications, details, and more helpful information to keep you moving
Things to know before you ride
It is essential to exercise caution while riding and to wear protective gear, including a helmet. It's worth noting that each state and territory in Australia has varying rules and regulations regarding the use of such products. This includes where they can legally be used and whether registration with the state's road traffic authority is required. Please keep in mind that any information provided by Segway Ninebot Australia is general in nature and may not take into account your specific circumstances. It is the responsibility of each rider to verify their local laws before riding.
Free Shipping & Returns
Free Shipping for orders over $99.
Download
Product Handbook Title
13 external hexagonal wrench CA.00.0030.73

Regular price

Sale price

$1.53

Unit price

per

Discover More

3mm T-type socket head wrench, 3mm T-type socket head wrench D18U/D28U/D38E/F40/F2/F2 Plus/F2 Pro/P65A/P100SE  AB.50.0010.92

Regular price

Sale price

$3.58

Unit price

per

Discover More

Aus regulation AC line Accessory Package-F65, G30, G30M, MAX G2, P65A, G65, P100SE 3 PIN 14.02.0322.00

Regular price

Sale price

$21.82

Unit price

per

Discover More
Close